Simmons Veterinary Hospital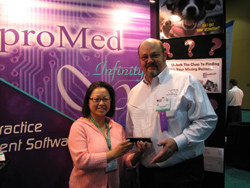 Linh Morrison, Director of Operations
(February 2, 2009) - ImproMed, Inc. is pleased to announce Simmons Veterinary Hospital in Lake Worth, FL, is its 2008 Best Place to Work Award winner. This is the 4th year ImproMed has recognized a customer for not only their dedication to practicing excellent medicine, but for demonstrating an exceptional professional atmosphere.
Simmons Veterinary Hospital's submission to the category included nominations from staff members, CDs, DVDs, a PowerPoint and photos.
"It's not just the employees that create the wonderful working environment … there are murals on the walls, pictures and paintings, client cards and letters," submitted Veterinary Technician Melissa Corichi. "When I take a step back and look around, I realize that Dr. Simmons made his dreams come true and I am inspired."
Melisa Amodei, the Human Resources Clerk, wrote "Simmons Veterinary Hospital has the well being of their employees in mind as a top priority. We are constantly growing as more and more minds join our team."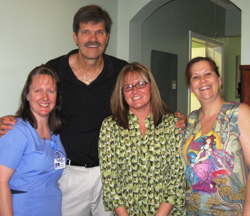 The first step to success is having happy employees … the doors are always open, there are incentives for new ideas and acknowledgment for hard work."
Sam Trombley, a veterinary technician, wrote a letter to the owner, Dr. Ken Simmons, saying "I will never be able to express my gratitude to you … I am lucky to have an employer who truly cares about me."
"At Simmons Veterinary Hospital, we have wonderful benefits, workplace culture, sense of family, training and development, and employee value," said Linh Morrison, Director of Operations.
Included in those benefits are subsidized child care, 50% employer paid medical and dental benefits, short and long-term disability, life insurance, a hospital indemnity plan, paid vacation, sick and FMLA, a 50% discount on veterinary services, company-paid lunches and breakfasts, picnics, and a monthly employee newsletter.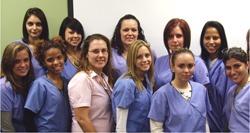 Not only did the Simmons Veterinary Hospital send ImproMed numerous materials to be chosen for the award, but once the clinic was told they had won the award, they held a ceremony where members of ImproMed's staff called in to tell Dr. Simmons that their clinic had won. 25 members of the clinic were there to congratulate him, and the staff, for all their hard work and they submitted a CD to ImproMed with a PowerPoint displaying pictures staff pictures, put to the song "The Best" by Tina Turner.
Although not the top recipient in for the 2008 Best Place to Work Award, ImproMed commends Dana Niguel Veterinary Hospital in Dana Point, CA, for its Honorable Mention. Dana Niguel Veterinary Hospital was nominated by Amanda Proud, Hospital Manager, because their team selflessly gives and supports each other and the hospital.
Previous Best Place to Work award recipients include:
Barton Heights Veterinary Hospital of Stroudsburg, PA
Truesdell Animal Care Hospital in Madison, WI
Windsor Veterinary Clinic in Windsor, CO
ImproMed is proud to acknowledge Simmons Veterinary Hospital for their top-quality care of clients and staff with an engraved glass plaque, ImproMed hats, a $75 ImproMed gift card and a $25 RmCards.com gift card, and commends them for a job well done.
ImproMed is an award-winning developer and provider of business and medical management software for the veterinary industry. Since its inception in 1979, ImproMed's continuing mission has been to provide veterinarians with better software and better technical support by carefully monitoring changes in the veterinary medicine field and implementing program suggestions from their clients.
About Simmons Veterinary Hospital
Simmons Veterinary Hospital is a leading provider of veterinary hospital, boarding, and grooming facilities to clients located in South Florida. The company offers veterinary services, luxury pet day care and overnight stay hotel services in the Barkers Hotel and Purrington Inn, and grooming.
Simmons Veterinary Hospital was founded in 1982. Located at 4975 Lake Worth Road in Greenacres, the company has more than 60 employees and has serviced nearly 50,000 clients in southeast Florida.
###