Oshkosh, WI (August 13, 2007) – ImproMed, Inc. is excited to announce its interface with the PetDetect Animal Identification System in conjunction with ImproMed Infinity Practice Management software.
Ideal for use in hospitals, kennels, day cares, grooming and animal control facilities, the system was designed to provide veterinary facilities with a professional, easy-to-use and effective
animal identification solution to assist with state and AAHA (American Animal Hospital Association) compliance standards.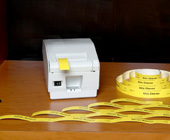 Utilizing thermal printing technology, this interface allows Infinity users to print custom collars for animals of any size, and labels any pet and their belongings in the veterinary clinic, eliminating costly or potentially tragic mistakes. Information on the custom labels can include the pet's name, run number, critical medical information and more.
ImproMed is an award-winning, world-leading developer and provider of business and medical management software for the veterinary industry. Since its inception in 1979, ImproMed's continuing mission has been to provide veterinarians with the best software and knowledge management solutions by carefully monitoring changes in the veterinary medicine field and implementing program suggestions from their clients.
PetDetect is a new business offering animal identification solutions for the pet care industry and can be visited at
www.PetDetect.com
.
###