Oshkosh, WI (January 13, 2009)
– ImproMed, Inc. is pleased to announce an industry-exclusive method by which customers can receive informa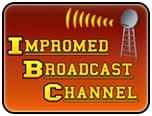 tion about a variety of different topics key to running their business – the ImproMed Broadcast Channel.
On January 1, 2009, the ImproMed Broadcast Channel (IBC) began distribution, with its first programming being video podcasts. These podcasts are viewable online at
https://www.impromed.com/broadcast
or by using programs such as iTunes or Feedburner to subscribe.
Weekly on Tuesdays and Thursdays, a new podcast will become available. These podcasts subjects will include software tips and walkthroughs, company information, sales specials, professional development tips, and information from our many business partners.
"Podcasting has become a popular and efficient way for companies to provide their customers with information that can be applied to their everyday life," said Steve Dempsey, Assistant Director of Continuing Education. "Our podcasts, which will run approximately four minutes each, will give our customers quick tips that will help them get even more out of their relationship with ImproMed."
ImproMed was rated #1 in Client Satisfaction in the 2008 Trends survey, and is a world-leading developer and provider of business and medical management software for the veterinary industry. Since its inception in 1979, ImproMed's continuing mission has been to provide veterinarians with the best software and knowledge management solutions by carefully monitoring changes in the veterinary medicine field and implementing program suggestions from their clients.
###