Oshkosh, WI (February 24, 2010) – ImproMed, Inc. is excited to announce that it has promoted Tawni Sobojinski from Customer Support Center Technician to Contract Coordinator.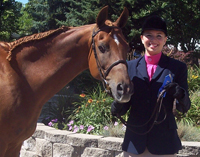 Tawni, an Oshkosh native and a University of Wisconsin-Oshkosh student, will now be
monitoring and overseeing all incoming sales contracts from initiation to installation. She will also be responsible for evaluating ImproMed's client needs and matching those needs with service and/or product solutions, all the while acting as a liaison between all internal departments to create an efficient contract process.
ImproMed was rated #1 in Client Satisfaction in the 2008 Trends survey, and is a world-leading developer and provider of business and medical management software for the veterinary industry. ImproMed continues to provide veterinarians with the best software and knowledge management solutions by carefully monitoring changes in the veterinary medicine field and implementing program suggestions from their clients. It has also experienced business growth through the 2009 acquisition of Sunpoint Software, Inc. and the 2010 merger with Vetech Software Services, Inc.