Oshkosh, WI (February 25, 2010)
–
ImproMed, Inc. is proud to announce Companions Animal Hospital is the ImproMed 1st Annual Green Friendly Hospital of the Year award winner. This is the first time ImproMed has given out the award to a hospital for showing

how their hospital demonstrated exemplary efforts at becoming more environmentally friendly.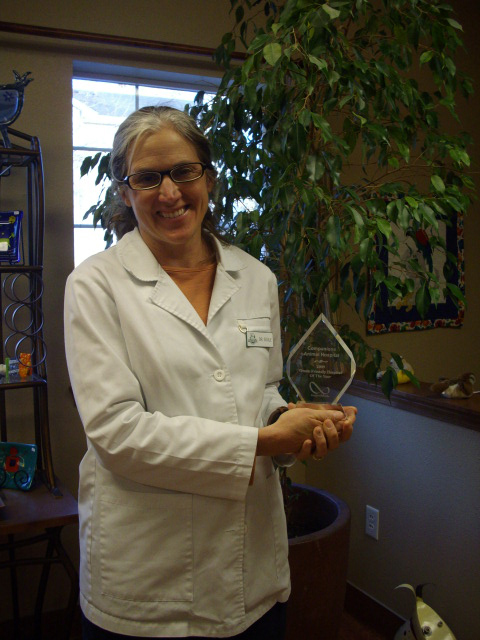 Nominated by the hospital's owner, Dr. Dianne Soule was selected to receive this award because of her dedication to making their newly-remodeled facility more green friendly through the reusing of materials including siding, making use of 100% recycled natural fibers in their insulation, installing a high efficiency furnace and a bike rack to encourage staff to ride to work, and replacing old bulbs and lighting.
The hospital also goes out of its way to recycle materials from the office such as cardboard, plastic and aluminum cans, uses only environmentally safe cleaning products, recycled paper towels and paper, and stainless steel feeding dishes for the pets for reuse.

As the winner of this award, Companions Animal Hospital received an engraved glass plaque, an ImproMed gift card and an RmCards.com gift card.

ImproMed would also like to commend Peak Veterinary Internists in Fort Collins, CO, for their nomination in this category. Although not chosen as the Green Friendly Hospital of the Year, Peak Veterinary Internists was selected to receive the Honorable Mention because of the hospital's strong commitment to employing environmentally friendly and sustainable business practices wherever possible. Being chosen as the Honorable Mention, Peak Veterinary Internists received a certificate, an ImproMed gift card and an RmCards.com gift card.

ImproMed was rated #1 in Client Satisfaction in the 2008 Trends survey, and is a world-leading developer and provider of business and medical management software for the veterinary industry. ImproMed continues to provide veterinarians with the best software and knowledge management solutions by carefully monitoring changes in the veterinary medicine field and implementing program suggestions from their clients. It has also experienced business growth through the 2009 acquisition of Sunpoint Software, Inc. and the 2010 merger with Vetech Software Services, Inc.
###