Oshkosh, WI (December 15, 2008)
– ImproMed, Inc. is pleased to announce it has integrated with Fujifilm to provide
a DICOM (Digital Imaging and Communications in Medicine) integration between the Infinity Practice Management System and Fujifilm's Flash IIP workstation for digital x-ray, as well as with Fujifilm's FCR Axon PACS.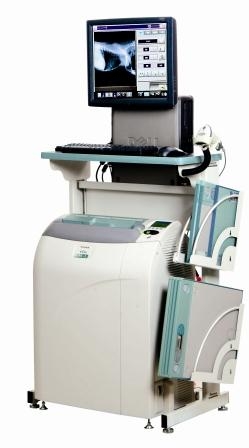 The DICOM imaging standard was developed to define the rules and guidelines for handling, storing, and transmitting information regarding digital imaging. This eliminates the need for Infinity users to duplicate client entry into multiple systems and reduces the need to look up patients' medical record information from multiple sources.
"Infinity provides a medical record complete with digital images, lab work, and anything else that is pertinent to the patient's medical record," said William Randolph, ImproMed Vice President of Technical Services. "As a result of this new integration, clients using Infinity and Fujifilm digital X-ray software no longer need to look in multiple programs to see critical parts of a patient's medical record. From a single source, all of the patient's medical information can be reviewed increasing efficiencies for the veterinary staff and providing faster and more accurate care to their patients'."
Additionally, a Modality Worklist entry generated from Infinity will automatically drive charges to the invoice and populate the Worklist in the Fujifilm digital x-ray system allowing for the final digital images to be accessed directly from the patient's medical record. Clients using Fujifilm Axon PACS can have Infinity query and retrieve the PACS system to view their images.
About ImproMed, Inc.
ImproMed is an award-winning, world-leading developer and provider of business and medical management software for the veterinary industry. Since its inception in 1979, ImproMed's continuing mission has been to provide veterinarians with the best software and knowledge management solutions by carefully monitoring changes in the veterinary medicine field and implementing program suggestions from their clients.
About FUJIFILM Medical Systems USA, Inc.
As one of the FUJIFILM Corporation family of companies with 70 years of imaging experience and more than $28 billion in sales, FUJIFILM Medical Systems USA, Inc. is a leading provider of diagnostic imaging products and network systems to meet the needs of healthcare facilities today and well into the future. Fujifilm's family of Imaging Systems products and technologies-including digital x-ray, women's healthcare imaging, dry imagers, and conventional x-ray film and equipment-are tailored to suit many different applications for a variety of imaging environments. The pioneer in the field, Fujifilm remains the market leader in digital x-ray with products that are clinically proven and constantly evolving to set the standard in digital imaging innovation. FUJIFILM Medical Systems USA is headquartered in Stamford, CT.
###