Contact: Jackie Herron, ImproMed, Inc., 1-800-925-7171,

jlherron@impromed.com
ImproMed Infinity version 4.4 to include LabREXX electronic test requisition
software for faster, more efficient laboratory test ordering
WESTBROOK, Maine, June 8, 2009
— IDEXX Reference Laboratories and ImproMed, Inc. have teamed up to launch IDEXX LabREXX® Software within the newest release of the ImproMed® Infinity Practice Management System. Incorporating LabREXX functionality into Infinity software increases practice efficiency by eliminating the need for manual test requisitions. Additionally, LabREXX software helps reduce lost charges with outside lab tests, potentially saving individual practices thousands of dollars a year in missed revenue.
It is estimated that 20%–25% of outside laboratory te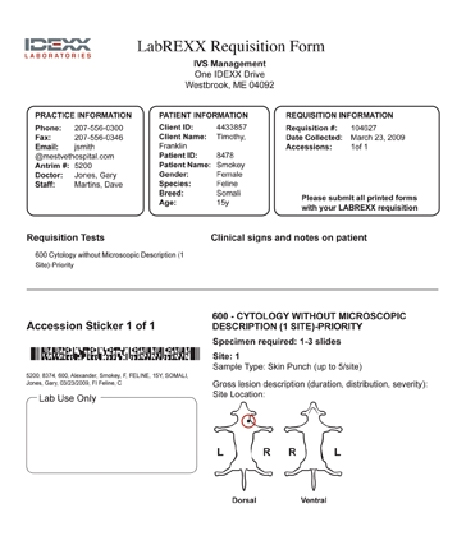 sts never get billed to clients per year.1

"Work-flow inefficiencies and lost revenue are significant, everyday challenges for busy practices," said Ron Detjen, President, ImproMed, Inc. "The combination of Infinity software and LabREXX electronic test requisitions offers veterinarians a single-source solution that saves them both time and money."
From the Infinity Lab Requests screen, users can access the LabREXX test requisition form to automatically populate it with information directly from a patient's electronic medical record. Tests are then selected from a complete menu of IDEXX Reference Laboratories tests, which also includes sample requirements and turnaround times for each test. Once completed, users then print the order form with its unique bar code to ensure accurate processing at the reference laboratory.
"The inspiration of giving veterinary practices more time to care for patients is what sparked the collaboration between IDEXX Reference Laboratories and our partners at ImproMed," said Jon Ayers, IDEXX President and CEO. "By adding the time-saving and revenue-enhancing features of LabREXX software to ImproMed Infinity Practice Management Software, we've created a unique and valuable set of tools for customers of both ImproMed and IDEXX Reference Labs."
For more information about the integrated LabREXX and Infinity offering, call 1-877-838-9273, or go to

www.impromed.com/labrexx

or

www.idexx.com/labrexx

.
ImproMed was rated #1 in Client Satisfaction in the 2008 Trends survey, and is a world-leading developer and provider of business and medical management software for the veterinary industry. Since its inception in 1979, ImproMed's continuing mission has been to provide veterinarians with the best software and knowledge management solutions by carefully monitoring changes in the veterinary medicine field and implementing program suggestions from their clients.
About IDEXX Reference Laboratories
and
IDEXX Laboratories
IDEXX Reference Laboratories is a worldwide network of laboratories trusted for providing a comprehensive testing menu and consistently delivering accurate diagnostic results to the veterinary industry. IDEXX Laboratories, Inc., the parent company of IDEXX Reference Laboratories, is a leader in pet healthcare innovation, serving practicing veterinarians around the world with a broad range of diagnostic and information technology-based products and services. IDEXX products enhance the ability of veterinarians to provide advanced medical care, to improve staff efficiency and to build more economically successful practices. IDEXX is also a worldwide leader in providing diagnostic tests and information for the production animal industry and tests for the quality and safety of water and milk. Headquartered in Maine, IDEXX Laboratories employs more than 4,700 people and offers products to customers in over 100 countries.
[1]

McCurrin DM. Promoting greater efficiency in the delivery of veterinary services. JAVMA. 2001;219(3):307–308.