Oshkosh, WI (February 2, 2009)
–
ImproMed, Inc. is proud to announce Dr. Robin Downing of Windsor Veterinary Clinic in Windsor, CO, is the recipient of ImproMed's 2008 Outstanding Veterinary Contributor Award. This is t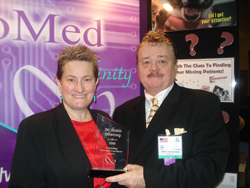 he fourth year ImproMed has selected a client that provides outstanding contributions to the veterinary community to receive this award.
ImproMed commends Dr. Robin Downing for being a pioneer in the hospice and palliative care with her creation of the first private comfort room, for providing her expertise to animal owners, students, and peers, and for being a strong animal advocate.
"Dr. Downing educates pet owners and other veterinary healthcare professionals through her lecture's, magazine and newspaper articles, as well as radio and television appearances," submitted Windsor Veterinary Clinic's Practice Manager Sharon DeNayer. "She also spends time educating veterinary students with her creation of a course in comprehensive pain management and rehabilitation for veterinary students from Colorado State University."
"She also takes the time to teach pet owners and she recently wrote a book titled 'Pets Living with Cancer – A Pet Owner's Resource' that includes guidance, information and reassurance for people who pets have been diagnosed with cancer."
On top of lending her expertise worldwide, she finds time to represent the animals through various organizations. In 2003, she founded the International Veterinary Academy of Pain Management with the mission of becoming the recognized leading forum and resource in animal pain for the veterinary profession through research, education, and advocacy.
The Morris Animal Foundation, the world's largest source of funding for scientific studies for the betterment of cars, dogs, horses, camelids and wildlife including the highly endangered mountain gorillas in Rwanda, has welcomed Dr. Downing as a trustee for more than 10 years.
The 1986 graduate of the College of Veterinary Medicine at the University of Illinois has also served as co-chair of the AAHA/AAFP Pain Management Guidelines Task Force.
As the winner of this award, Dr. Downing/ Windsor Veterinary Clinic received an engraved glass plaque, ImproMed hats, a $75 ImproMed gift card and a $25 RmCards.com gift card.
ImproMed would also like to commend Dr. Mark Thompson from Country Hills Pet Hospital in Eden, WI, for his nomination. Although not chosen as the top Outstanding Veterinary Contributor in 2008, Dr. Thompson was selected to receive the Honorable Mention because of his commitment to be on the cutting edge of diagnostics and procedures, as well as customer service and client education. Being chosen as the Honorable Mention, Dr. Thompson received a certificate, ImproMed hats, a $50 ImproMed gift card, and a $10 RmCards.com gift card.
Previous recipients of this award are:
Dr. Kim J. Hammond, DVM/Chief Executive Officer of Falls Road Animal Hospital (Baltimore, MD)
Dr. Tom Truesdell, DVM/Owner of Truesdell Animal Care Hospital (Madison, WI)
Dr. Heather Schwedt, DVM, of Countryside Veterinary Clinic (Ellicott City, MD)
ImproMed was rated #1 in Client Satisfaction in the 2008 Trends survey, and is a world-leading developer and provider of business and medical management software for the veterinary industry. Celebrating its 30-year anniversary, ImproMed continues to provide veterinarians with the best software and knowledge management solutions by carefully monitoring changes in the veterinary medicine field and implementing program suggestions from their clients.
###