Our most advanced software platform, designed to manage every aspect of your practice, including appointment scheduling and billing, wellness plans, inventory tracking, enhanced reporting, patient reminders, and even marketing.
ImproMed Veterinary Practice Management Software
The product that proves our dedication through a comprehensive approach to practice management.
You get the tools configured to your unique practice and we provide the ongoing support to maximize your investment.
ImproMed Features:
Bundle different services together to create wellness packages for all of the different types of patients you serve. This not only removes cost as a barrier, but it also encourages pet owners to schedule visits sooner and more frequently.
Streamlined with an enhanced look and feel for easier use. The new Whiteboard view allows you to see all patients in the practice at once.
Track your patient visits more completely in detail. View each provider's cases with Episodes of Care which allows you to open and view invoices, treatment plans, and more at a glance.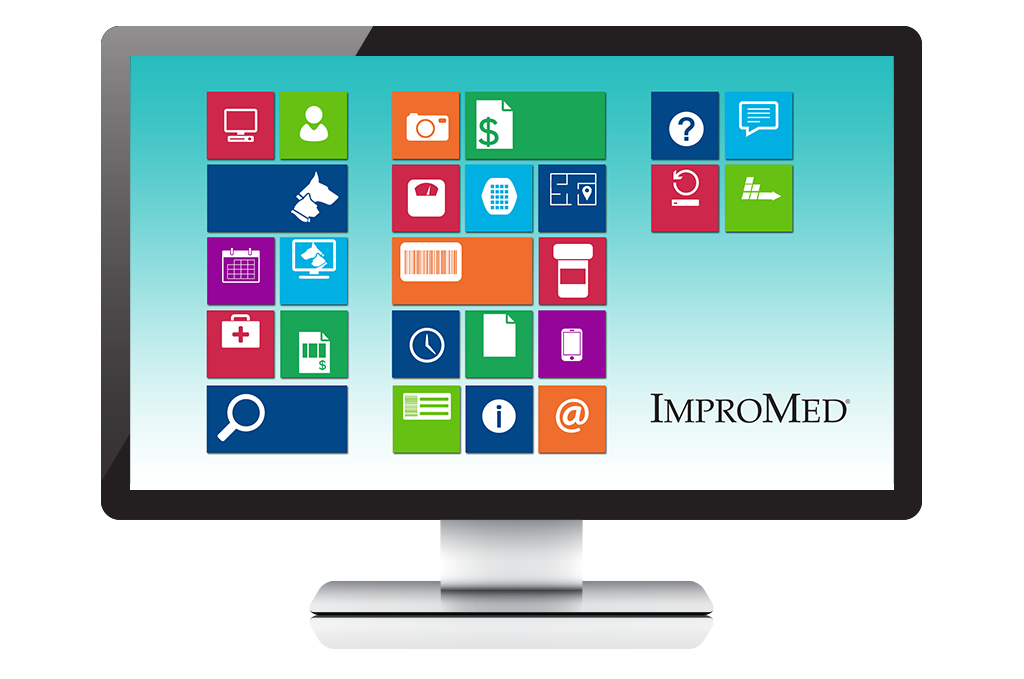 Enhanced Forward Booking
When you conclude an invoice, ImproMed will prompt you to make a future appointment and show all current appointments for that patient. This will help clients better manage their pet's health, prevent serious health complications, and ensure proper protocol for follow-up care.
Enhanced Reporting
Built on the Microsoft SQL platform, ImproMed can help you leverage your data with a suite of over 250 available reports including those for financial, productivity, management and inventory.
Manage your practice on the go and stay in touch at all times. Look up client and patient information, upload images directly into ImproMed, view medical records, view patient and client information, and more.
Benefits to your practice:
Infinite options in configuration:
ImproMed is configurable which means it can be optimized to fit your workflow, and it can grow with your practice. Its modules are specifically designed to help you manage information, increase profits, improve care and reduce expenses.
Enhanced customer communications:
ImproMed veterinary practice management software helps you communicate with your clients by enabling you to generate postcards, letters, and labels. All information is easily exported to Microsoft® Excel™. ImproMed also features a direct export option for reminder services such as VetPressOnline (post cards) and Rapport (automated email, text, and voice calls).
Diagnostic & operational interface:
ImproMed veterinary practice management software offers more than 50 vendor parter integrations. Practices can connect with vendors of their choice for in-house and reference labs, digital imaging, pharmacy references, and more. ImproMed is the hub for credit card processing, inventory, and general ledger.
ImproMed integrates with AXIS-Q, a Covetrus product. This product is the hub that maximizes your workflow and integrates with the diagnostic provider that best meets your needs.
View our list of integration partners >>
Reduces missed charges:
ImproMed veterinary practice management software allows for medical record-driven invoicing. Instead of sitting down at the end of the day to remember activities and apply charges, ImproMed allows your staff to capture everything from recording weight, dispensing medications, or requesting lab work, right at the moment of care. Want to go paperless or paper light? ImproMed ImproMed offers numerous ways to get there. You'll be able to make your practice more streamlined, profitable, and efficient.
Increases overall efficiency:
Searching for paper patient files, medication records and lab results become history. Practices can consolidate important pieces of information that are frequently used. With paperless or paperlite capablities, multiple users now have access to the same medical record to view, access and enter information while the patient is being served.
Mobile Apps:
We put your data at your fingertips with multiple mobile applications for iOS or Android devices. Look up medical records, account balances, or access client contact information. Monitor your profitability. Search revenue, payments, transactions and accounts receivable. Easily access lab results anytime, anywhere. To learn more about our mobile applications click here