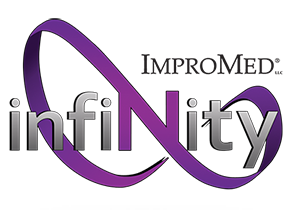 Our most comprehensive package designed to flex as your practice grows. Providing you the tools configured for your practice with the most efficient workflow. The bottom line: better patient care.
Infinity: More than software - a total practice solution
The product that proves our dedication through a comprehensive approach to practice management.
You get the tools configured to your unique practice and we provide the ongoing support to maximize your investment.
Infinity Features:
Streamlined with an enhanced look and feel for easier use. The new Whiteboard view allows you to see all patients in the practice at once.
Track your patient visits more completely in detail. View each provider's cases with Episodes of Care which allows you to open and view invoices, treatment plans, and more at a glance.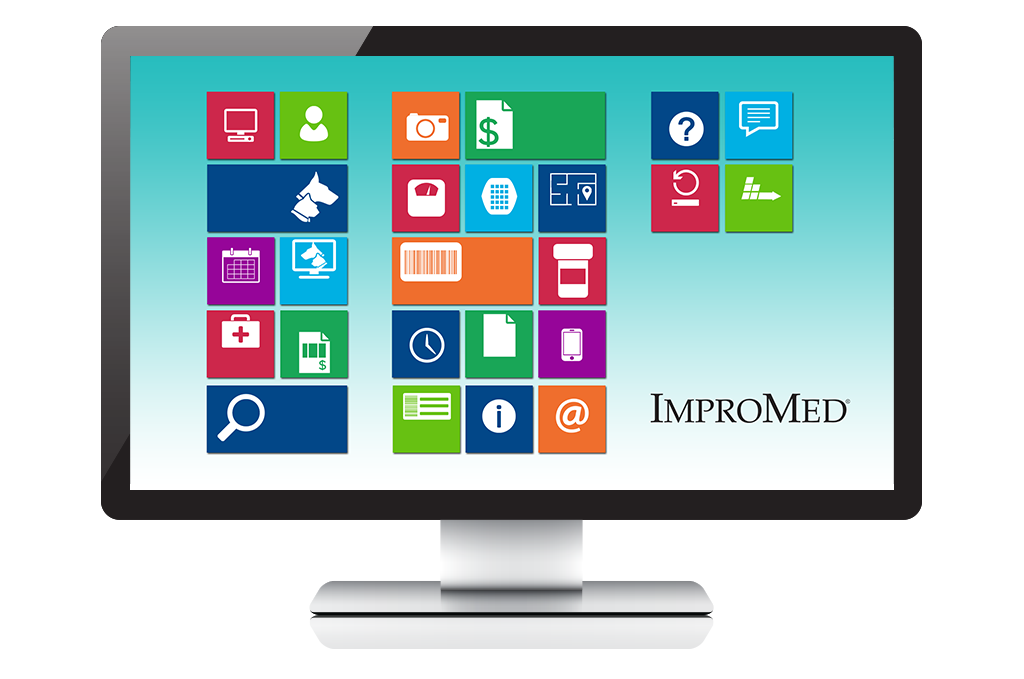 Enhanced Reporting
Print, email, export, and track client communications easier. New pre-defined templates help you communicate faster and export results with just a few clicks.
Manage your practice on the go with tools that help you stay in touch at all times. Look up client and patient information anytime, anywhere with your ImproView app. Upload images directly into Infinity, search and view patient info, client info, rabies tags, medical records, and more.
Benefits to your practice:
Infinite options in configuration:
Infinity provides the most features with modules specifically directed at managing information to increase profits, improve care, reduced expenses and reduce wasteful, missed charges. Each software solution can be configured to enhance any practice workflow.
Enhanced customer communications:
Infinity helps you use your database to generate postcards, letters, labels, and reports and all information is easily exported to Microsoft Excel.
Infinity also features specific export options for reminder services like VetPressOnline and Rapport.
Diagnostic & operational interface:
Infinity offers more vendor partner integrations than any other system on the market. Practices can connect with in-house and reference labs, integrate digital imaging, and link to pharmacy references. Operationally, Infinity is the hub of credit card processing, inventory and general ledger.
Infinity integrates with AXIS-Q, a product Henry Schein. This product is the hub that maximizes your workflow and integrates with the diagnostic provider that best meets your needs.
Reduces missed charges:
Infinity allows all staff members to deliver specific care, record activity at the point of care and track the use of all materials. As soon as technicians take a temperature, use a bandage or a syringe, the activity is logged into Infinity rather than sitting down later and trying to re-create the day.
Increases overall efficiency:
Time wasters like searching for patient files or medication records become history. Practices can consolidate important pieces of information that are frequently used. Multiple users can have access to the same medical record to view, access and enter information while a patient is being served.
Mobile Apps:
We put ImproMed techonology at your finger tips with a product line that gives you information on the go. All applications work with iOS or Android devices. ImproView allows you to look up medical records, account balances, or access client contact information. Pulse allows you to monitor your businesses' profitability in an easy to use app, you can search revenue, payments, transactions and accounts receivable to get a financial snapshot of your practice on the go. Improve patient care with the Lab Retriever app, easily access lab results anytime, anywhere.
Hardware coverage:
We offer an extended warranty coverage on hardware purchased through ImproMed and is available to customers who purchase ImproMed Application Support. It includes, but is not limited to:
Telephone support or diagnosis
Replacement or repair of any covered part(s)
Assistance in configuration or system set up (by appointment)
Loading and reloading of system software and operating system
Reconfiguration of equipment
Retrieval of ImproMed data
Consultation on hardware, off-the-shelf software and operating system purchases
Conditions:
ImproMed Hardware Support (IHS) is only available for hardware purchased through ImproMed. Following the initial 90-day free period provided by ImproMed LLC, quarterly or annual fees are based on the client chosen covered items. Hardware Support is available through toll-free telephone and internet connections, during regular ImproMed business hours.
Operating system coverage:
If you maintain hardware coverage on your ImproMed equipment, we automatically provide Windows operating system coverage at no additional cost. If you don't opt to cover your hardware under your ImproMed coverage, or you have third party servers and workstations, we encourage you to cover your operating system.
Conditions:
The quarterly or annual fee is based on the type of system purchased through ImproMed®. Operating System Support is available through toll-free telephone, modem, or router connections, during regular ImproMed® business hours.
Why should you choose Infinity?
Just ask the veterinarians who are already realizing the benefits of Infinity. Today they are delivering higher quality care more efficiently and have invested in a management tool that will grow with their practice. Get the power of a system designed specifically for veterinarians—call us today!
Learn from these success stories >>
What our clients are saying:
I've been an ImproMed user for over 25 years and couldn't be happier. The program allows us to keep track of so many parameters in very user friendly way. The interface is intuitive and easy to use. New staff members are trained and proficient in a short amount of time.
Mitchell Kornet -
Mid Island Animal Hospital
I love the flexibility it gives us, ability to work with any lab/radiograph equipment we have purchased, allows multiple users on the same account at once, the constant update of software to keep it fresh-innovative-current. I have had the opportunity to explore other software and keep coming back to Infinity as my favorite.
Ellen Moyer -
Lone Mountain Animal Hospital
We couldn't be happier with the software. We sure couldn't be happier with the people involved with the software. I would recommend it to anyone.
Kim Jacobs, CVMP -
Corinth Veterinary Clinic
As we continue to grow and think of new ways to use Infinity, it seems like ImproMed has already thought of them. I don't believe that a practice could outgrow this software. Infinity is the perfect software for us. If you are looking for a software that will be able to grow and evolve as your practice does, then Infinity is the right software for you.
Alinda Higgins -
East Lake Hospital for Animals, LTD.
Having computers in the exam rooms has reduced our paper usage significantly - we are almost completely paperless and it feels great! Sending records is quick and easy! Maintaining medical records and drug logs is easy! I like that you have several options to choose from when it comes to report cards or a SOAP format for exams.
Dr. Cheryl Morales -
Cypress Lakes Animal Hospital